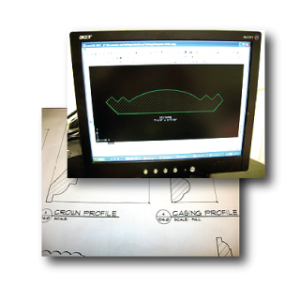 If you work with CAD software, you will want to save this site to your list of favorite places. Here you will have access to download not only the over 3200 moulding profiles in our catalog but also new moulding shapes not in our catalog as they are added to our collection.
The number of shapes is rapidly growing as we are grinding new knives on a daily basis. This comprehensive collection, available only online, also gives you the ability to choose moulding profiles, with no additional tooling charge. Simply select a series from the dropdown list below and download that file.
IF FOR SOME REASON THIS SEARCH ENGINE IS OFFLINE PLEASE USE OUR BACK-UP WEBSITE AT WWW.SSCRAFTSMEN.COM.
---
Search by Profile and Height...
Select one or both of the following search criteria.
OR
Search by Item Number...
Enter a partial or complete number (e.g. "SSI-765", "SSI-7", "76", etc.). Leave it blank and click the Search button to return all moulding profiles.