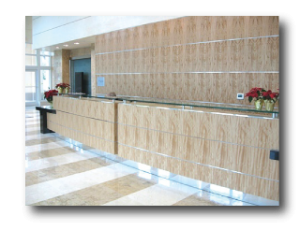 S&S Craftsmen, Inc. is a highly versatile company with capabilities to manufacture all types of custom woodwork including casework, cabinets, paneling, and wainscoting. Wood veneer, solid wood and plastic laminate options are available. Our experience in this field is quite extensive and includes some of the finest Corporate Offices, Hospitality, Country Clubs, Religious, and Institutional applications.
Upon receipt of plans and specifications, we will make a detailed list of materials necessary to complete the scope of work and enter this information into our custom estimating software. The software takes into consideration economies of scale labor databases based on the size and quantities of materials being manufactured for your project. The software allows us to discount labor cost automatically and passes those savings on to our customers when calculating the final cost. The software also provides a scope sheet sorted by location to use as an attachment to our proposals. The scope sheets are helpful when comparing "apples for apples" or for review of a complete scope.
Our engineering department is known for producing some of the best shop drawings in the industry. Our engineers are highly experienced and motivated personnel who enjoy the daily challenges of engineering custom woodwork from conception to reality. We are both modern technically and versatile in a practical sense. We produce both CAD and manual type shop drawings. Our CAD drawings are produced using the latest AutoCAD and Microvellum software and an HP plotter but there are times when doing manual drawings makes more sense.
Our Contract Division proposals will always include installation. We have long-standing relationships with some of the best finish carpentry crews in the country. We feel that this part of the process is so important that it must be included in our scope of responsibilities if the final product is to meet expectations.
Start to finish, S&S Craftsmen, Inc. is your best bet to get it done right and on time.